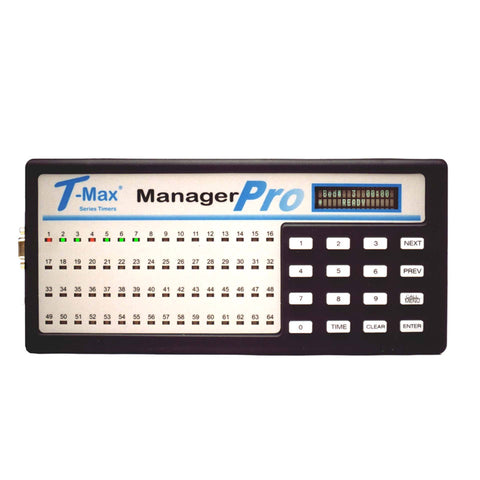 T-Max Manager Pro
***SALE Price $722.94 with Discount Code for Limited Time***
Use Discount Code: TODAY for Sale Price, Free Shipping & No Tax!
The T-max Manager Pro is our best selling front desk salon control system.  It provides complete salon automation from a centralized location. 
The T-Max® Manager Pro is a front desk control unit for the T-Max 3W/G2 Timers. It can be connected to up to 64 T-Max® 3W/G2s and or T-Max 3A Intercoms to control up to 128 tanning units in a single salon. This control panel also works with tanning beds with T-Max Certified internal timers installed (T-Max Ready Equipment).
The T-Max® Manager Pro has 64 dual-colored lights showing bed status. A 16x2 easy to read Vacuum Fluorescent Display (VFD) also shows the status of a given bed. A 16 key keypad allows for manual session control. The T-Max® Manager Pro can be used manually or be controlled with a PC using today's most popular tanning software. Up to eight T-Max® Manager Pro and or eight T-Max Manager G2 Controller can also be connected to each other within a single salon.
The T-Max Manager Pro can be used manually or connected to a computer using most salon software packages.  "At a glance" room status is shown by the LED lights, and the bright, fluorescent display also show the detailed status of a given room with the press of a button.
The T-Max® Manager/Pro can also be connect to a G2™ Access Point and G2™ Power Injector if necessary to control your salon wirelessly!
FEATURES
Button Start, Delayed Start, or Immediate Start
Password Security
Salon Software Compatible
Session Count Monitor
Maximum Time Error
Multiple Computer Communications
Total Room Hour Monitor
Cancel Session Features
Wireless Communicator (optional)
Lamp Hour Monitor
Manual Operation Mode (optional)
Intercom Communications (optional)
Timer Disconnect Alarm
EPROM Date Error Alarm
Power Failure Protection
Clean Room Feature
If you are wanting to use this and have your beds run wireless, you will need to purchase a AP900 G@ Wireless Module for the Manager Pro as well as one for each bed.
Warranty:
2 Year Manufacturer Warranty
Why buy from us?
We're an authorized dealer and give you the full manufacture warranty.
We care about quality and customer service!
We've been in business since 2011 and our customers love us.
Till this day the owner himself still personally emails every customer! 
We ship out all products as quickly as humanly possible. 
We're not an eCommerce company, we are a family owned business that cares!
Just read the real, verified customer reviews and see for yourself.
Order Today and leave the rest to us!