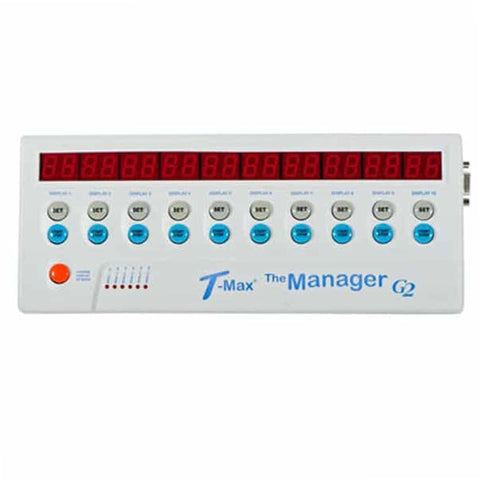 T-Max Manager G2 Control Unit
***SALE Price $721.99 with Discount Code for Limited Time***
Use Discount Code: TODAY for Sale Price, Free Shipping & No Tax!
The T-Max Manager G2 Control Unit
The G2 control system is used as an all-in-one front desk operating system for tanning salons, gyms or other commercial tanning applications. It can control up to 60 individual tanning units via the T-Max 3W/G2 timers or with any beds with pre-installed T-Max timers. The digital display has 10 two-digit LED displays across the upper portion of the controller with start / stop manual buttons directly below. A row of 6 LED's indicates which bank of ten beds are being displayed. The T-Max® Manager G2™ can be used manually or be controlled with a PC using today's most popular tanning software. A single salon can hook up as many as eight G2 controllers. For wireless options the Manager G2 works with the G2 Access Point system eliminating the need for wires and cables throughout the salon.
Features
Single unit operates as many as 60 tanning units

Connect up to 8 G2 units together

Compatible with T-Max G2 Access Point Wireless System

20 LED displays showing 10 units status'  

Size - H5" x W10" x D2" 

Power - 9VDC, 1 Amp

Includes power supply, key switch, computer cable, USB to RS232 converter and software
Brand: Applied Digital Inc.
Size H 5" x W 10" x D 2"
Power 9VDC - 1 Amp
Capacity 60 Tanning Units
Wireless Compatible Yes
Compatible Timer T-Max 3W/G2
Model # 99900000114
Warranty
2 Year Manufacturer Warranty
Click here for: Operating Manual / Technical Specifications

Why buy from us?
We're an authorized dealer and give you the full manufacture warranty.

We care about quality and customer service!

We've been in business since 2011 and our customers love us.

Till this day the owner himself still personally emails every customer! 

We ship out all products as quickly as humanly possible. 

We're not an eCommerce company, we are a family owned business that cares!

Just read the real, verified customer reviews and see for yourself.
Order Today and leave the rest to us!