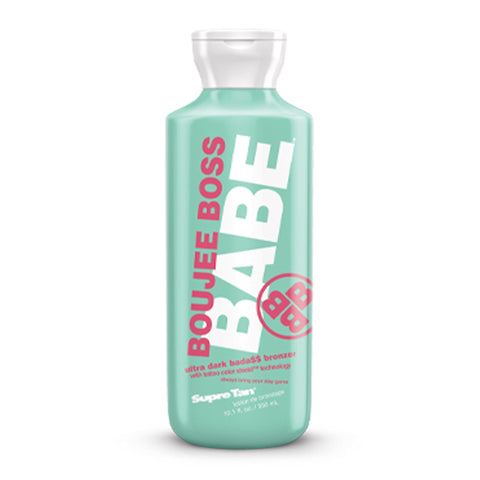 Supre Boujee Boss Babe Bronzer 10.1 oz.
When 'why be ordinary when you can be extraordinary' isn't a question but your way of life, you are one Boujee Boss Babe. Indulge in this elite, powerful bronzing blend packed with an unrivaled combination of Antioxidant rich Citrus Extracts and luxurious, trailblazing skin care for matchless tanning results. Some want it, some wish it, but Boss Babes get it!
Features
Dramatically Dark Bronzers with Black Walnut, Henna, DHA and Caramel provides instant color that continues to darken skin after UV exposure for the elite tan you deserve.

Dark Tanning Complex with Tyrosine enhances your tan for darker longer lasting color.

Rose Water & Eucalyptus help to reduce redness to improve color and provide the ultimate in skin conditioning.

Vitamin rich Citrus Extracts with antioxidants aid in protecting the skin from free radical damage and stimulate collagen production.

Essential Minerals and Caffeine moisturize and renew skin reducing the appearance of fine lines and wrinkles, giving you a more youthful glow.
Specifications
Full-size: 10.1 fl. oz./ 300 mL
Fragrance: Dreamy Water Lotus with notes of Dreamwood, Water Lotus and Eucalyptus
Why buy from us?
We're an authorized Distributor

You get the full manufacturer warranty included

We only sell brand new spray tanning equipment 
We've been in business since 2011 and our customers love us

Even today the owner himself still personally emails every customer

We ship out all spray tanning equipment fast

We're a family owned business that cares

Just read the verified customer reviews and see for yourself

No Tax Added

100% GUARANTEED LOWEST PRICE
Order Today and leave the rest to us!