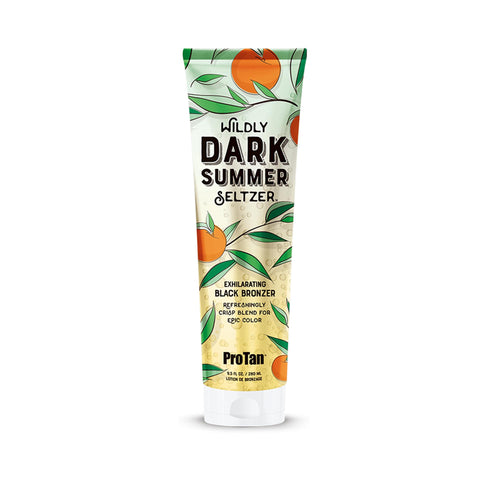 Pro Tan Wildly Dark Summer Seltzer Black Bronzer 9.5 OZ.
Summer is my season when I have my Wildly Dark Summer Seltzer. Experience the delight and Exhilarating Black Bronzing color that will catch all the attention. Infused with Nectarine Extract, a wonderous little fruit plus Grape Seed Oil is the perfect blend for helping your skin maintain a more youthful look.
Features
Black DHA Bronzers help provide deep, rich, golden color that continues to develop after UV exposure.
High Power Ultra Dark Tanning Formula.
Moisturizes skin while tanning.
CX2 Skin Firming Complex with Caffeine, L-Carnitine, Coenzyme A and Coenzyme Q.
Nectarine Extract plus Grape Seed Oil, rich in Antioxidants helps give your skin a more youthful appearance.
Specifications
Fragrance: Mango Nectarine
Size: 9.5 oz./ 280 mL
Why buy from us?
We're an authorized Distributor

You get the full manufacturer warranty included

We only sell brand new spray tanning equipment 
We've been in business since 2011 and our customers love us

Even today the owner himself still personally emails every customer

We ship out all spray tanning equipment fast

We're a family owned business that cares

Just read the verified customer reviews and see for yourself

No Tax Added

100% GUARANTEED LOWEST PRICE
Order Today and leave the rest to us!