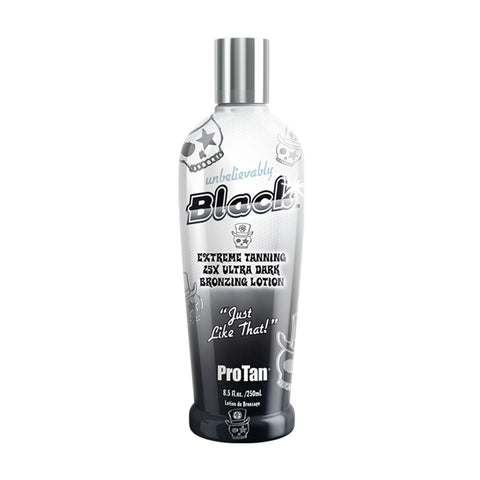 Pro Tan Unbelievably Black 8.5 OZ.
Unbelievably Black™
Extreme Tanning 25x
Ultra Dark Bronzing Lotion
Product Type: Bronzer

This awe inspiring, extreme tanning blend is guaranteed to turn you into a bronzed believer. Synergistically formulated Tan Maximizers along with both Black and DHA Bronzers amplify your true tanning potential! Natural exotic extracts, Aloe Vera and magical Silicones provide the perfect conditioning properties that keep your skin
healthy and luminous while you tan.
Features
Exotic Botanicals help condition the skin for a brighter, healthier looking full body complexion.
Natural Streak Free Super Black Bronzers that work the moment they touch the skin.
Black Bronzers develop and maintain a tan for up to 7 days.
Specifications
Fragrance: Sweet Vanilla Almond Crème
Size: 8.5oz./250mL.

Why buy from us?
We're an authorized Distributor

You get the full manufacturer warranty included

We only sell brand new spray tanning equipment 
We've been in business since 2011 and our customers love us

Even today the owner himself still personally emails every customer

We ship out all spray tanning equipment fast

We're a family owned business that cares

Just read the verified customer reviews and see for yourself

No Tax Most States

100% GUARANTEED LOWEST PRICE
Order Today and leave the rest to us!