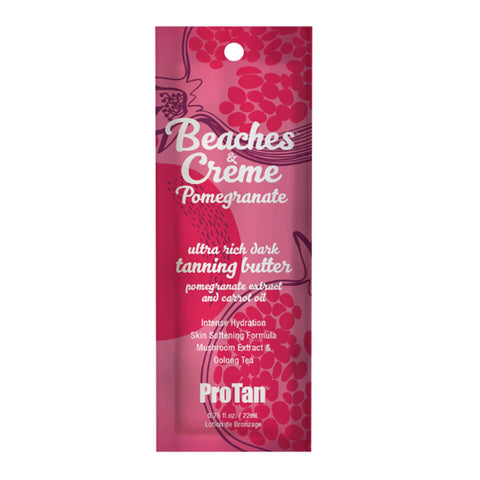 Pro Tan Beaches & Creme Pomegranate Intensifier .75 OZ. (6 Pack)
Deeply moisturize and nourish skin while achieving your desired tanning results with this creamy, rich body butter. Beaches & Crème Pomegranate Ultra Rich Dark Tanning Butter is enriched with Pomegranate Extract and Carrot Root Oil, a powerful tonic that helps give skin a revitalized, healthy glow. Antioxidant rich Oolong Tea and skin conditioning Shea Butter and Mushroom Extract help to provide maximum skin hydration, feel the difference.
Features
Pomegranate Extract contains high levels of antioxidants and helps reduce the appearance of fine lines and wrinkles.
Dark Tanning Intensifiers including Tyrosine help enhance your tan for darker, longer lasting color.
Carrot Root Oil helps provide extraordinary skin nourishment and soothing properties.
Oolong Tea and Mushroom Extract help to brighten, improve color and provide the ultimate in skin conditioning.
Specifications
Fragrance: Sparkling Pomegranate with notes of Juicy Pomegranate, Bright Yuzu and Sugared Peony Petals
Size .75 oz. / 22mL (6 Pack)
Why buy from us?
We're an authorized Distributor

You get the full manufacturer warranty included

We only sell brand new spray tanning equipment 
We've been in business since 2011 and our customers love us

Even today the owner himself still personally emails every customer

We ship out all spray tanning equipment fast

We're a family owned business that cares

Just read the verified customer reviews and see for yourself

No Tax Most States

100% GUARANTEED LOWEST PRICE
Order Today and leave the rest to us!