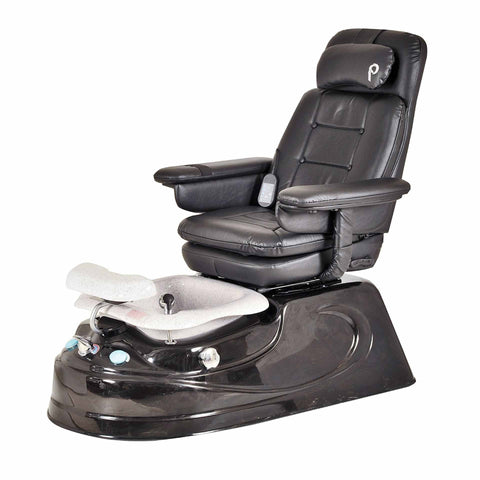 Pibbs PS74M Granito Jet Spa w/ Vibration Massage
The Pibbs PS74M Granito Jet Spa w/ Vibration Massage features the new pipe-free jet system with removable jets that are very easy to clean. This unit features a sleek European design, an overflow drainage system, flexible stainless steel hose and LED lights. The black base is made of fiberglass reinforced acrylic for extreme durability and the bowl & footrest are 100% hygienic & non-porous. The chair top swivels for easy client access and it features a sliding and adjustable reclining back and multiple vibration options.
Features:
Pedicure Spa
Swivel chair top w/ reclining back - Black
6 Mode Vibration Massage
Deluxe Padded Armrest
Handheld Remote Control
Manual Recline, Slide, and Swivel Adjustment
Black Base is fiberglass-reinforced acrylic
Magnetic Jet System
Overflow Drainage System
Unique Faucet
LED Light
Available in black only
Specifications:
Chair Top 24"L x 33"W x 35"H
Base 52"L x 27"W x 20"H
Warranty
* Expedited shipping available please contact us!
Why buy from us?
We're an authorized Pibbs Industries Distributor

You get the full manufacture warranty included
We only sell brand new products and equipment 
We've been in business since 2011 and our customers love us
Even today the owner himself still personally emails every customer
We ship out all products and equipment fast
We're not just an eCommerce company but a family owned business that cares
Just read the verified customer reviews and see for yourself.
No Tax Added
100% GUARANTEED LOWEST PRICE
Order Today and leave the rest to us!