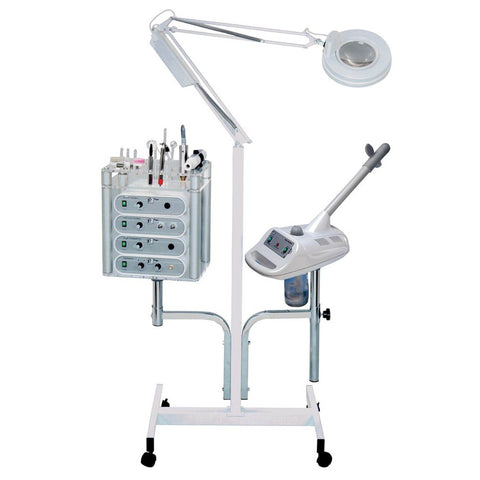 Pibbs 2500 Skin Care System
The Pibbs 2500 Skin Care System is Made in ITALY and is designed for maximum space efficiency with a modern contemporary look. Its specialized top tray keeps all attachments organized and within easy reach.This Professional Skin Care System includes the following Pibbs functions: 2510 Brush Unit, 2520 Vacuum & Spray Unit, 2530 High Frequency Unit, 2540 Galvanic Unit, 2545 Combo Plexi Holder, 2550 Heavy Duty Mobile Stand, 2556 Vapourel Steamer and 2010 5 Diopter Magnifying Lamp.
Features:
Great Quality - Made in the ITALY Most Complete Package of Skin Care Equipment in a Compact & Mobile Stand
A Must for effective, focused facial and body treatments
Wheels make this unit easy to move around any Treatment Room
All Attachments & Hardware Included
Warranty
Why buy from us?
We're an authorized Pibbs Industries Distributor

You get the full manufacturer warranty included
We only sell brand new products and equipment 
We've been in business since 2011 and our customers love us
Even today the owner himself still personally emails every customer
We ship out all products and equipment fast
We're a family owned business that cares
Just read the verified customer reviews and see for yourself
No Tax Added
100% GUARANTEED LOWEST PRICE
Order Today and leave the rest to us!