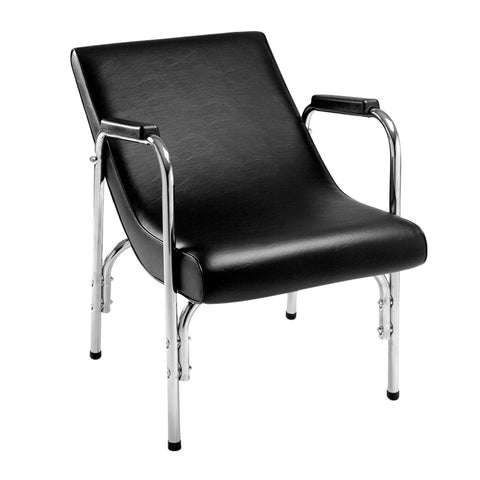 Pibbs 200 Lounge Shampoo Chair
The Pibbs 200 Lounge Shampoo Chair is made by Pibbs Industries and is available Black. This shampoo chair is permanently reclined at a 45 degree angle to provide extreme comfort and great back support for your clients. It is also made on a heavy-duty chrome base that provides great stability.
Since this chair is always reclined there is no manual reclining mechanism that can wear out or have to be replaced. This chair is very durable yet still very stylish and has a great modern look.
Features:
Made by Pibbs industries & Available in Black Only
Permanently Reclined at 45 Degrees for Extreme Comfort & Back Support
No Manual Reclining Mechanism to Replace
Heavy-Duty Chrome Base
Specifications:
Inside Arms: 19"
Outside Arms: 22.5"
Total Height: 28.5"
Reclined Total Length: 55.5"
Warranty:
Why buy from us?
We're an authorized Pibbs Industries Distributor

You get the full manufacturer warranty included
We only sell brand new products and equipment 
We've been in business since 2011 and our customers love us
Even today the owner himself still personally emails every customer
We ship out all products and equipment fast
We're a family owned business that cares
Just read the verified customer reviews and see for yourself
No Tax Added
100% GUARANTEED LOWEST PRICE
Order Today and leave the rest to us!