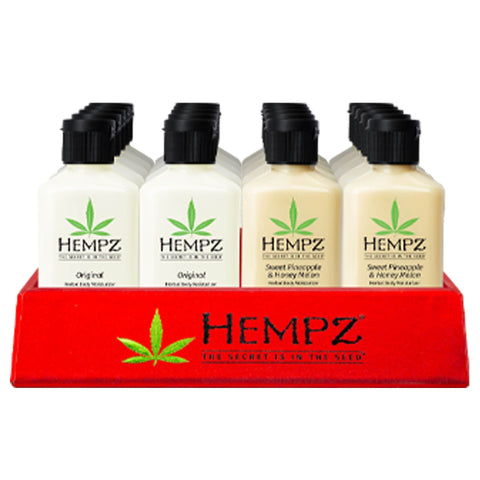 Hempz Mini Happy Holidaze Basket 24 piece 2.25 oz. Each
Original mini herbal body moisturizer, help condition skin with the pure hemp seed oil in our vegan lotion that tempts the senses with a floral-and-banana fragrance.

Sweet Pineapple & Honey Melon, protect and repair skin with this vegan body lotion powered by pineapple and honey melon extracts. The natural moisturizer contains vitamin A benefits for skin, as well as vitamin C from plant extracts including hemp seed oil and pure shea butter. 
Features
Shea Butter and Ginseng help calm and soothe skin

Vitamins A, C and E help protect skin from natural and environmentally triggered oxidants

Helps condition skin for a healthier look and feel

Helps provide dramatic skin hydration and nourishment
Contains Miracle Oil Blend™, a signature blend of essential oils to effectively nourish skin helping to hydrate, repair and restore skins moisture barrier leaving skin soft, smooth, supple and nourished

Pineapple extract helps to condition, soften and invigorate skin

Honey Melon extract is a natural antioxidant with Vitamin A and E properties help hydrate and nourish skin

Jojoba Seed Oil has natural anti-inflammatory properties help to provide even skin tone while keeping skin hydrated, nourished and conditioned
Specifications 
12 Original Mini Herbal Body Moisturizers 2.25 oz.

12 Sweet Pineapple & Honey Melon Mini Herbal Body Moisturizers 2.25 oz.

1 Display
Fragrance: Floral & Banana
Fragrance: Fresh Pineapple & Honey Melon
Why buy from us?
We're an authorized Distributor

You get the full manufacturer warranty included

We only sell brand new spray tanning equipment 
We've been in business since 2011 and our customers love us

Even today the owner himself still personally emails every customer

We ship out all spray tanning equipment fast

We're a family owned business that cares

Just read the verified customer reviews and see for yourself

No Tax Added

100% GUARANTEED LOWEST PRICE
Order Today and leave the rest to us!