Omega Light Use & Warnings
Omega Light Operation & Safety Warnings
1.  Up Arrow Key 
Increases session time by one minute 
2. Power Key
3. Fan Key
Turn internal fan on and off
4. Down Arrow Key 
Decreases session time by one minute 
5. Red Light + Green Light Key
6. Green Light + Blue Light Key 
7. Toggles through base colors Red, Green & Blue
8. Blue Light + Red Light 
9. Time Display
10. Air Outlet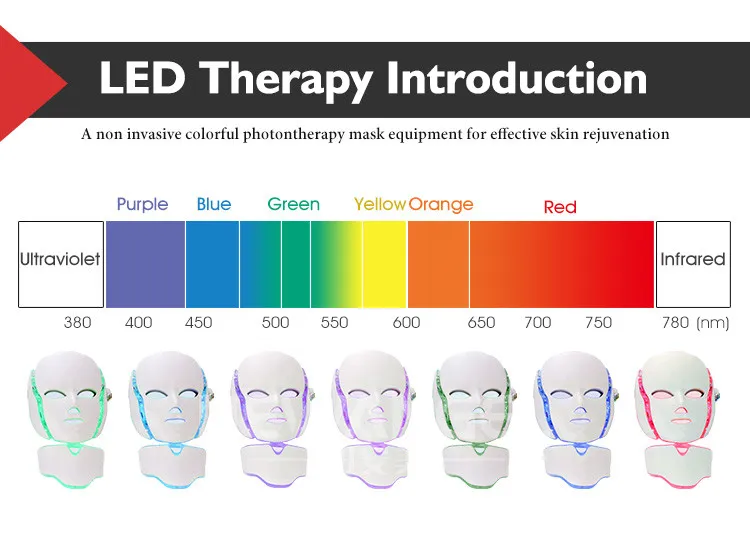 PRODUCT USE TIPS
Enhanced results may be generated by applying high quality natural moisturizers and skin nutrient products before using the Omega Light.
****WARNINGS****
Pregnant women, and children, as well as any person with thyroid disease, light allergies, open wounds in mask area, or taking drugs that interact negatively with light should not use the mask. Please consult your doctor if you have any questions on whether light therapy is appropriate for you.  
Do not look at the lights directly and use the included eye protection when using the Omega Light.
Do not read, watch television, surf the Internet or conduct activities that extends the opening of your eyes when using the unit.
Topical acne products should NOT be used before using your Omega Light but can be applied afterwards.
Please choose high quality natural ingredients cosmetics and moisturizers if applying those products before using the Omega Light.
Do not use chemical liquids or dip unit into water for cleaning.
Use clean water and a wet cloth to gently clean the Omega Light.
Don't expose the unit directly to sun light. 
TREATMENT PROTOCOLS
Red light   630nm 
This light will stimulate the growth of collagen. Collagen is an essential protein that used to repair damaged tissues and to repair the old tissues. It can remove fine line and shrink pores.
Blue light    470nm
Bacteria in acne contains Porphyrins; because of the high affinity with wave length, the blue light is able to kill Porphyrins. In addition, the blue light has calm action which is very effective for hypersensitivity.
Green light   520nm
The green light can balance the color pigment, and reduce fine lines, improve ageing skin, speed up the healing process of the wound, lightening the skin.
USING THE OMEGA LIGHT
Before use your skin LED for the first time it is very important to take a picture of the area you will be addressing. Improvement generally take place in small increments and can be difficult to see on a daily basis. Take the picture at in a room that has no natural light and duplicate the exact lighting again when you take your "after" pictures.

Wash your face with a good quality skin care product before using the Omega Light. Although optional, results will be more dramatic if the Omega Light is used with a high quality skin care product. Products containing Vitamin A (such as Retin-A) should only be used after using your skin LED as these products may block the LED light from penetrating into skin.

2. Put on the safety goggles/glasses provided

3. Switch on and allow approximately 20-30 minutes for each daily session. It is highly recommend you use the Omega Light daily to provide optimal results. 
SESSION LENGTH
The Omega Light is most effective when used daily on the affected areas for 20-30 minutes. Once results are achieved sessions may be reduced to one or two times weekly. 
For acne treatment, once the skin is clear continue to use your skin LED daily if possible to kill any bacteria causing spots. To enhance your acne treatment it is recommended you also work with a dermatologist or aesthetician while using a good quality topical acne product. Topical acne products should NOT be used before using your Skin LED, but can be applied afterwards.