Professional 3.0 LED Light Therapy Mask - Operation & Warnings
Professional 3.0 Remote Control Operation 
1. Microelectronics Settings
Controls current level used by the (optional) Micro Current Control Studs. 
Level 60 (zero current) up to a maximum of 69 (Level 9 current).
2. Brightness Settings 
Controls brightness (power output) of the LEDs in the mask. 
Level A1 is minimum power up through A9 maximum power.
2. Flicker Settings
Controls four levels of flicker or "strobe effect" to modify light stimulation.
Level F0 (zero flicker) up through F4 flicker speeds (F1 is fastest and F4 is slowest flicker).
3. Time Settings
Allows user to set their session time from 1 to 60 minutes.
 4. Color Select Settings 
C0 No Light (Off) 
C1 Red Light 630nm
C2 Green Light 520nm
C3 Blue Light 470nm
C4 Yellow Light 590nm
C5 Purple Light 
C6 Cyanine Light
C7 White Light 
C8 Alternating Light (C1 through C7)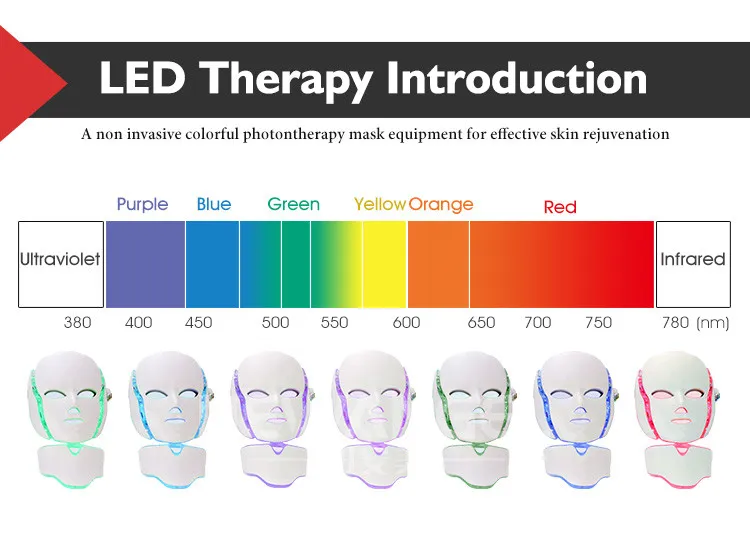 PRODUCT USE TIPS
Enhanced results may be generated by applying high quality natural moisturizers and skin nutrient products before using the mask.
Using the Micro Current Control studs is optional based on users comfort.
Te Microcurrent Contact studs may help to open pores and stimulate skin is key areas to enhance absorption of moisturizers or skin nutrients that are applied before use of the mask. 
The neck section can be detached from the face mask and used as a

handheld device to spot treat areas.
****PRODUCT WARNINGS****
Follow all directions in the Use Instructions pamphlet.
Pregnant women, and children, as well as any person with thyroid disease, light allergies, open wounds in mask area, or taking drugs that interact negatively with light should not use the mask. Please consult your doctor if you have any questions on whether light therapy is appropriate for you.  
Do not look at the lights directly and close eyes when using the mask.

Do not read, watch television, surf the Internet or conduct activities that extends the opening of your eyes when using the mask.

Please choose high quality natural ingredients cosmetics and moisturizers if applying those products before using the mask.

Please do not bend, squeeze, or apply heavy pressure to the LED lights or PCB electronic board in the mask.

Do not use chemical liquids or dip the mask into water for cleaning.

Use clean water and a wet cloth to gently clean mask.

Don't expose the mask directly to sun light.