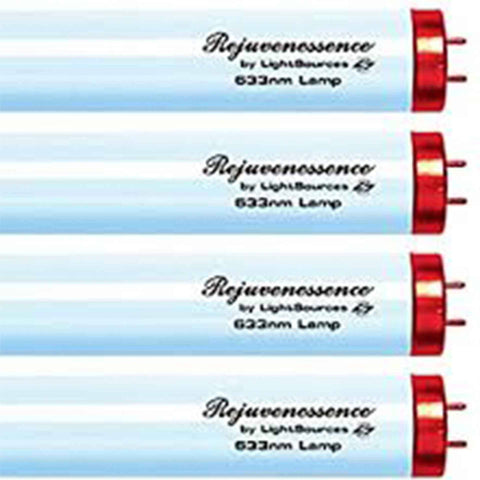 Rejuvenessence FR71 Bi-Pin 100 Watt Red Light Therapy Lamps
***5% Off, Free Shipping Damage Insurance & No Tax Most States***
Use Discount Code: TODAY for Sale Price, Insurance & No Tax most states!
If you are looking for high quality red light therapy at an affordable price this is it!
The Rejuvenessence FR71 100W Red Light Lamps do not produce ultraviolet light and they will not tan your skin. This is a red light lamp designed for people seeking the health benefits of red light therapy who wish to convert their existing tanning bed into a red light therapy bed. 
The Rejuvenessence Red Light Lamps use a special phosphor mix designed for HIGH OUTPUT light in the 633nm range (near red wavelength) and the lamps have built in reflectors that generates 30% more output than other non-reflector lamps. These 100 Watt Bi-Pin lamps are designed to retrofit any tanning bed that uses FR71 sized lamps. 
The results of red light therapy aren't as instantaneous as tanning lamps but they are quite real and most users begin to see results after a few weeks of use. When used daily, most users report dramatic results after 6 weeks, that may be maintained with just a few sessions each week. This lamp is used by premium spas throughout the US and Europe.
Please be sure you check your lamp type prior to ordering. These are Bi-Pin lamps (see images below).
Features:
100 Watt FR71 Bi-Pin Lamps (fits most tanning beds) 
633nm Peak Wavelength Output
High Output 100 Watt Lamp
Phosphor Reflectors Generate 30% More Output
Home and Commercial Compatible 
Life Expectancy of 2,500 Hours (7,500 x 20 Minute Sessions)
Specifications 
Replaces ESB Rejuvenessence FR71 100w Bi-Pin Lamps 
Replaces all FR71 or F71 100-120w Bi-Pin Tanning Lamp 
Replaces ESB #533218 
Order Includes:

Free Fedex or UPS Ground Shipping to most states
Please make sure you have selected the correct lamps before ordering. If you have questions ask our staff at info@suntanningstore.com or on chat. It is very expensive to ship fragile lamps and restock them so returns may be costly.
Shipping & Inspection Process:
These lamps are shipped Fedex or UPS Ground in special protective packaging and the buyer should inspect the shipment on arrival
If shipping damage has occurred please report the damage and send photos to us immediately at info@suntanningstore.com 
After arrival the buyer will have 7 calendar days to report any other issues with the lamps
Why buy from us?
We're an authorized dealer and give you the full manufacturer warranty

We care about quality and customer service

We've been in business since 2011 and our customers love us

We ship out all beds and lamps as quickly as humanly possible

We're are a family owned business that cares

Just read the real, verified customer reviews and see for yourself

No Tax Most States
Order Today and leave the rest to us!