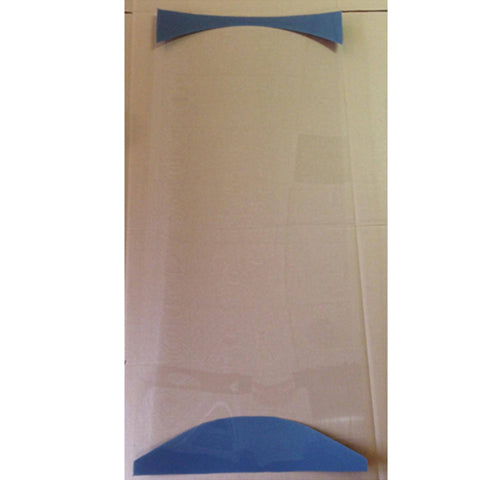 Solar Storm 16S Tanning Bed Replacement Acrylic
Remodel your Solar Storm 16S Tanning Bed and improve UV light transmission by installing brand new canopy or bench acrylic!

As your tanning bed acrylic ages micro tears occur inside the acrylic and cracks can occur that significantly diminish light transparency and prevent UV light from passing though to the tanner. Most tanning bed manufacturers recommend replacing the tanning bed acrylic at about 1,000 hours of use or about the time the tanning bed lamps are being changed. 
This is replacement acrylic for Solar Storm 16S Tanning Bed and will be shipped to you directly from the Solar Storm factory. 
Please select either bench or canopy acrylic when ordering

FREE 

Freight shipping included (value of $99.99)
FREE Shipping Insurance (value $29.99) *See requirements below*
Note on Product Images: The Solar Storm manufacturer no longer installs the semi circular blue masks on each end of the acrylic that hide the lamp holders and the entire sheet is clear
Please make certain you have a Solar Storm 16S Tanning Bed before ordering. This replacement acrylic is specific to Solar Storm will not fit other models.
Shipment Inspection Requirement (Please Read): 

Please open the box and inspect the acrylic at arrival
If the acrylic has been damaged you can refuse to accept the shipment from the driver if you are present at arrival
If the acrylic has been damaged please report the issue to Fedex or UPS immediately and take photos of the box and damage
Please report damage and forward photos to info@suntanningstore.com 
 Why buy from us?
We're an authorized Solar Storm Tanning Bed Distributor

We only sell brand new equipment under full manufacturer warranty

We care about quality and customer service

We've been in business since 2011 and our customers love us

Till this day the owner himself still personally emails every customer

We ship out all products as quickly as humanly possible

We're a family owned business that cares

Just read the real, verified customer reviews and see for yourself
Order Today and leave the rest to us!