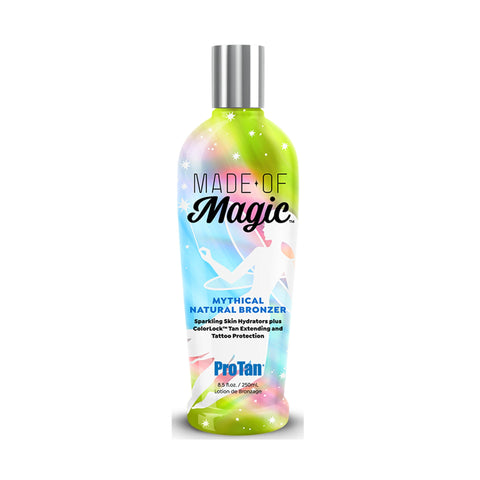 Pro Tan Made of Magic Natural Bronzer 8.5 OZ.
If you don't believe in magic, you'll never find it. Made of Magic Mythical Natural
Bronzer will not only condition and hydrate but leave you with rich, illuminating
bronzed skin. A unique blend of Blueberry and Lavender Extract, plus Vitamin E Oil helps nourish, soothe and calm skin while locking in needed moisture to keep your color looking fabulous. Tattoo Colorshield Technology™ helps preserve and brighten your skin and any body ink from fading by providing intense hydration. We can all use a little magic to keep our tan from being tragic.
Features
Natural Streak Free Bronzers allow skin to further darken after UV exposure for
a deeper, darker, longer lasting tan.
Blueberry and Lavender Extract are rich in Antioxidants that help condition, revitalize and nurture skin leaving it feeling soft and smooth.
ColorLock Tan Extenders help penetrate the skin with deep hydration to lock in
moisture and prevent fading.
Tattoo ColorShield Technology™ combines essential Minerals, Aloe Vera and Algae to help maintain the color and vibrancy of tattoos.
Specifications 
Fragrance: Majestic Breeze
Size: 8.5 oz. / 250 mL
Why buy from us?
We're an authorized Distributor

You get the full manufacturer warranty included

We only sell brand new spray tanning equipment 
We've been in business since 2011 and our customers love us

Even today the owner himself still personally emails every customer

We ship out all spray tanning equipment fast

We're a family owned business that cares

Just read the verified customer reviews and see for yourself

No Tax Most States

100% GUARANTEED LOWEST PRICE
Order Today and leave the rest to us!